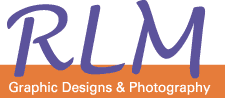 Built on a solid reputation for effective, innovative and visually appealing graphic design and photography, RLM Graphic Designs & Photography provides design solutions for a wide-range of clients. With a proven commitment to developing custom visual identities, RLM delivers high quality illustration, website design, logo and brand development and graphic design.
RLM Graphic Designs & Photography was founded by Roberta L. Matteson in 2001. With a Bachelor of Arts in Photojournalism, Roberta has a trained eye for providing clients with clear, creative and effective designs. Prior to creating RLM, Roberta worked for Radiant Systems, where she served as the Marketing Communications Manager and was integral in maintaining the corporate identity, producing marketing collateral, and developing the company's division web and intranet sites.
In addition, Roberta has won several awards for her photography; and has been widely published in a variety of mediums.